Şewî pîroz! Şewî aram! (Kurdish Soranî)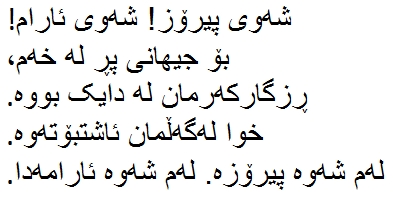 Latin transcription:
Şewî pîroz! Şewî aram!
Bo cîhanî piř le xem,
řizgarkerman le dayik bûe.
Xwa legaĺman aştbotewe.
Lem şewe pîroze. Lem şew(e) arameda.
Translation of the Kurdish lyrics:
Holy night! Peaceful night!
To the world who's full of grief,
A saviour has been born to us.
God has made peace with us.
In this holy night. In this peaceful night.
Submitted by: Andreas & Tabea Kaufmann
---

Return to homepage